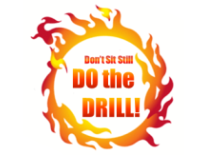 Submit Fire Drill Report ten (10) times per school year based on the following guidance:
At least two fire drills must be conducted during the first two weeks of the school year, and one a month thereafter, for a total of 10 per year. When weather is severe during the winter months, at least six drills must be held at the beginning of the school year, and four drills after the winter months to complete the 10 required drills.
Conduct a Fire Alarm Evaluation, following the procedures outlined in Section 5 of School Emergency Response Plan and Managment Guide.
Announce the first fire drill of the school year in advance so that instructions can be given and procedures established. Procedures, not time, should be most important for the first drill.
At least one fire drill in the fall and one in the spring should be conducted for adult education programs.
At least one fire drill during the first week of any summer school program, or any special programmed activity (e.g. summer recreation program) must be conducted.
Fire drills should be conducted under a variety of conditions: different times of school day, during lunch periods, during class changes, during assemblies, etc., to avoid distinction between drills and actual fires.
Drills should be conducted with a primary exit route blocked to test use of secondary exit routes.
Each time a fire drill is conducted, the Office of School Security must be contacted to alert personnel monitoring all school fire alarm systems that a building evacuation drill is being conducted (not an actual emergency situation). Once the drill has been completed, a follow-up call should be placed to the Office of School Security to verify that the building's alarm signal was received by monitoring personnel.
These reports must include the following:
Time and date the drill was conducted
Weather conditions at the time of evacuation
Number of occupants evacuated
Total time of evacuation and
Other information relevant to the drill.
DCPS specific requirements
Number of mobility impaired persons present during drill
Number of mobility impaired persons assisted out of the building
Areas of refuge or staging areas used for the mobility impaired and
Fire alarm system operational.
Refer to your school's specific Emergency Evacuation Plan for specific information. Note any fire alarm deficiencies discovered during the drill and call in an emergency work order to the DGS Customer Service Desk at (202) 576–7676.
Fire alarms do not notify Emergency Responders. This must be done with a call to 9-911 either directly or through an alarm monitoring service.
Note: the PDF version of this report is available for download.
Office Hours:
Monday - Friday, 8 am - 4:30 pm
Service Location:
GIS Address:
2235 Shannon Place SE, Suite 3040