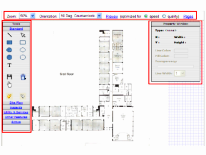 When opening the plan for the first time and no data has been entered yet, you must save information on page 1 before page 2 becomes available. You may go though the entire plan without completing all the required information. Remember that the Emergency Plan is "complete" when all of the required data is entered on each page.
Completing the School Emergency Response Plan
Emergency Plan must be filled out for your building or school once a year.
Every year a new, "clean" template will be created in the system.
You must fill out all the required data on each page for a plan to be considered "complete".
ESA Administrator will have access to review your plan.
ESA Administrator will designate a specific person to "approve" your plan once it has been filled out by you.
You may access your plan after it has been approved any time during the year to update information, if needed.
For complete instructions on the ESA online training application, see the User Manual. This manual is designed to assist new and existing users in understanding how to create a plan the first time and .
Service Location:
GIS Address:
2235 Shannon Place SE, Suite 3040